MB 100
Thinkware MB100 Video Splitter Module 1-4



The MB100 video splitter allows to connect up to 4 additional cameras to the main camera (F200PRO or T700). You will get a record of what happened in the vehicle and its surroundings from a total of up to 5 lenses. Moreover, if you use the T700 as the main camera, you can have the live-view from all cameras remotely, wherever you are, even when the car is parked.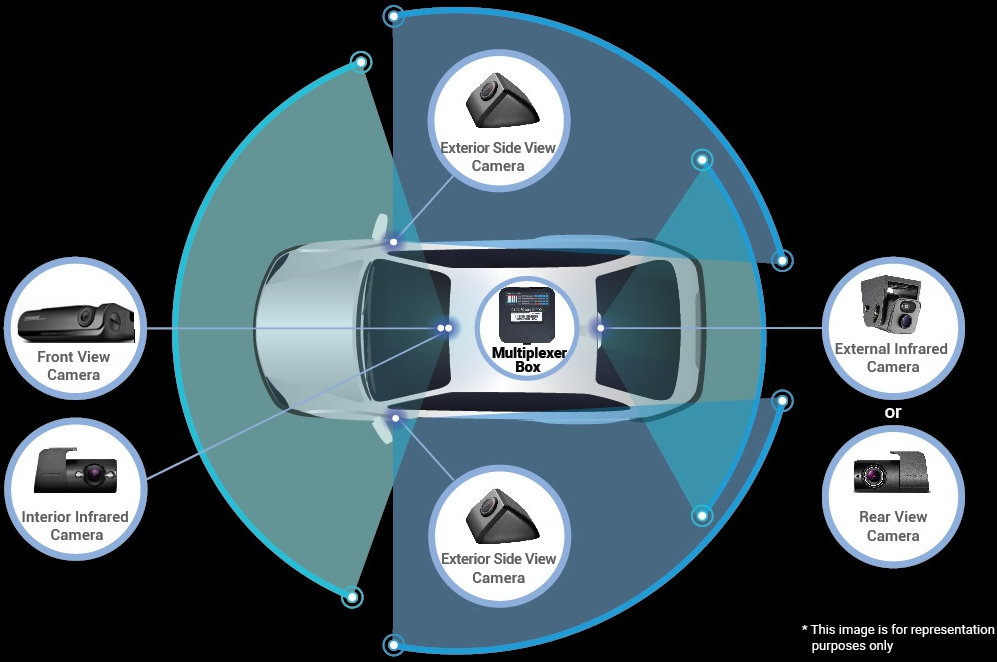 Split Display Setting:

TECHNICAL SPECIFICATIONS:

KEY

PIANO CODE SWITCH




COMPOSITE SCREEN CAN BE CONFIGURED ACCORDING TO SWITCH COMBINATION

POWER SOURCE

2 (BAT, GND)




DC 12 V ~ 24 V




CABLE LENGTH: 3 M

AV-IN (FOR OPTIONAL CAMERA CONNECTION)

4 CABLES (CAM 1, CAM 2, CAM 3, CAM 4)




2.5 PI STEREO-JACK TYPE




AFHD




CABLE LENGTH TO CONNECTING CONNECTOR: 15 CM

RECORDING CHANNEL

UP TO 4 ANALOG FULL HD CAMERAS CAN BE INPUT (TOTAL 5CH)

COMPOSITE VIDEO

FULL HD (1920 X 1080)  @ 30FPS

DIMENSIONS (WXDXH)

65 X 65 X 17.5 MM (2.56 X 2.56 X 0.69 INCH)

OPERATING TEMPERATURE

-10°~ 60°C (14°~ 140°F)

IN THE PACKAGE

MB100 VIDEO SPLITTER

MAIN WIRING

4 X INPUT FOR ADDITIONAL CAMERA (JACK 2.5 MM)

1 X INPUT TO MB100 (WHITE CONNECTOR)

1 X POWER CABLE (2.5 METERS – FREE WIRES BAT, GND)

1 X OUTPUT FOR THE MAIN CAMERA (JACK 2.5 MM)

VIDEO CABLE (CONNECTION MB100 / MAIN CAMERA)

LENGTH 3 M

CONNECTORS 2X JACK 2.5 MM

NOTE

THE SPLITTER BOX CAN ONLY BE USED AS AN ADD-ON ACCESSORY TO A COMPATIBLE THINKWARE DASH CAM. THE MULTIPLEXER BUNDLE BY ITSELF CANNOT BE USED TO RECORD DRIVING FOOTAGE.