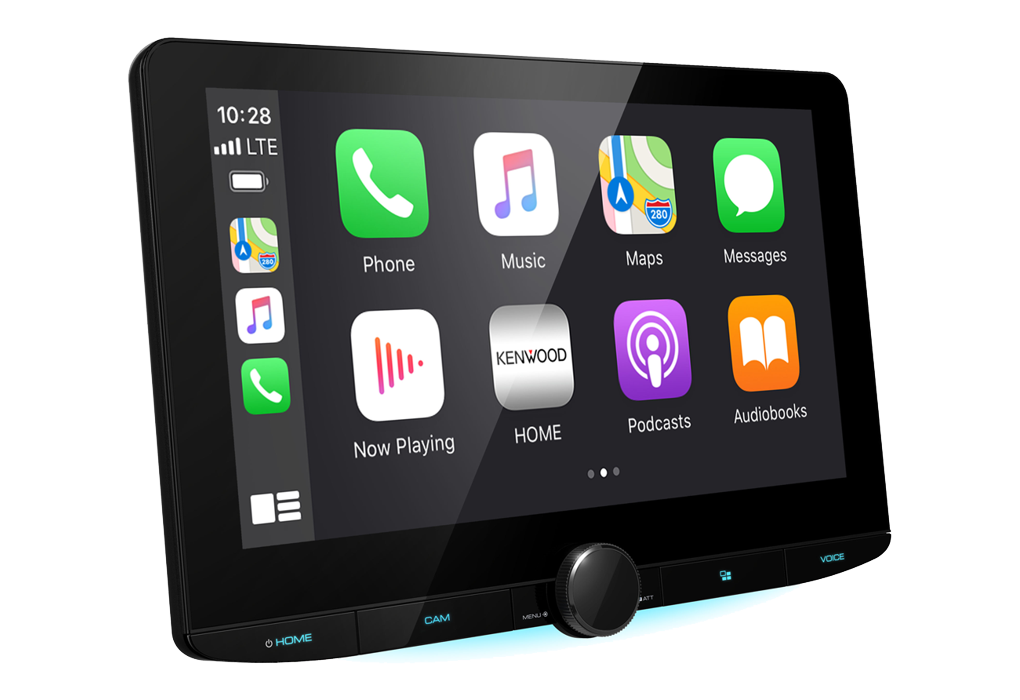 The Kenwood DMX9720XDS is a car audio marvel. The very real and very new 10.1′ screen is 1280x720P which is featured on on the DNX9190DABS. Other features include DAB, Apple Car Play, Android Auto, WiFi, Hi Res Audio and 4 camera inputs.
Floating Panel Mechanism with 3-way Position Adjustment
The robust floating mechanism generates less vibration even on a rough road. It can be installed regardless of the size of the cluster panel opening. In addition, it is possible to adjust the position of the display in the three following ways, so you can fit a large screen in more vehicles.
Powerful 10,1" HD Display
DMX9720XDS adopts a 10.1 inch HD display providing room for more information that is large and easy to comprehend with just a glance. The KENWOOD DMX9720XDS features an electrostatic capacitive touch panel and HD 1280 x 720 pixel LCD panel with high luminance white LED backlight and superior wide viewing angles.
High-Resolution Audio Wireless
LDAC is an audio compression technology that enables High-Resolution Audio sources to be transmitted via Bluetooth. It is possible to transmit about 3 times the data amount compared to the conventional Bluetooth codec (SBC). High-Resolution Audio sources can be processed without down-converting them to lower frequencies and lower bit counts. With these features, unprecedented, high-quality audio is realised.
Digital Audio Broadcasting (DAB)
DAB is a digital radio technology for broadcasting radio stations, used in various countries in Europe. In comparison to traditional AM and FM radios, DAB delivers cleaner, crisper sound due to the noise reduction implemented. Furthermore an upgraded DAB+ was released in 2007, which features a higher audio quality and better reception.
Apple CarPlay via Wi-Fi & USB
Apple CarPlay gives iPhone users an intuitive way to make calls, use Maps, listen to music and access messages with just a word or a touch. With iOS 12.0 and higher, 3rd party navigation apps like Google Maps™ are also supported. Wireless connection is available on compatible iPhones.
Some features, applications and services are not available in every region. 
Android Auto via Wi-Fi & USB
Android Auto is a simple way to use your Android phone in the car. The KENWOOD receiver combine an intuitive voice controlled interface with a large touch screen and superior sound quality, allowing you to enjoy features including Google Maps and more. Wireless connection is available on compatible Android phones.
Some features, applications and services are not available in every region. 
Wireless Mirroring for Android
Wireless Mirroring is a ground-breaking solution for seamlessly displaying and controlling your smartphone apps on the receiver large screen without cables or even a network connection. The feature is available on compatible Android phones
4 Camera Inputs
DMX9720XDS features 4 camera inputs which allow for the utmost in convenience, flexibility and safety. You can connect a KENWOOD dash cam (DRV-N520 sold separately) (or a front camera), rear and blind view (left / right) cameras. Setting of camera type and display switching between 4 cameras can be operated easily via the receiver large screen. AV input is assignable as 4th camera input.
HD Rear / Front Camera Input
The optional CMOS-740HD camera can be connected to the rear or front camera inputs of the receiver, displaying the image in true HD (1280 x 720 pixels) on the large DMX9720XDS screen.